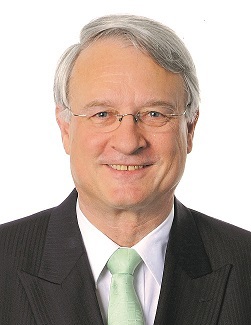 Dr Marcus Desax, Honorary President of IFA, passed away on 8 October 2019 at the age of 71.
Born in 1948, Marcus Desax was educated at the Universities of Fribourg (lic. iur. 1973, Dr. iur. 1977, both summa cum laude) and Alabama, USA (M.C.L. 1977). From 1977 to 1984, he was in-house counsel for the DuPont Company in Wilmington, Delaware, USA, and at its European headquarters in Geneva, Switzerland. From 1984 to 2006, he was a Partner at the law firm Pestalozzi, located in Zurich, Switzerland. In 2007, he became a Partner at the law firm Walder Wyss, located in Zurich. After resigning from his role as Partner at Walder Wyss in 2013, he stayed on as of counsel until 2018.
Marcus represented the IFA Swiss Branch in IFA General Council, first as a deputy member (1988-1993) and then as a member (1994-2000). At the 2005 IFA Congress in Buenos Aires, he was appointed President of the IFA. That same year, the Young IFA Network YIN was launched, and Marcus made the YIN the first priority of his presidency. In his first address at the Opening Ceremony in Amsterdam in 2006, he called upon the older generation of IFA members to make an effort to ensure that the IFA was attractive to younger members and offered them opportunities in our Association. As a result, during his tenure, Young IFA members took on more roles in the Permanent Scientific Committee, the Executive Committee and the Congresses. Also during his tenure, the number of IFA Branches grew from 51 to 60 and the number of Young IFA members increased as well. In 2014, the first 'IFA President YIN Scientific Award', established by Marcus, was awarded to a YIN member for an article published in a scientist journal.
To Marcus, IFA was much more than just a professional member organisation. Marcus had a strong passion for the IFA, and he was deeply committed to its advancement and to its contribution to the development of the field of international taxation. On retirement from his role as President in 2009, at the Vancouver IFA Congress, Marcus was appointed Honorary President. He remained in touch with IFA through participation in the Annual Congresses, usually with his wife Cornelia, and other national and regional IFA conferences.
On a more personal level, I had the chance to start working with Marcus in 2006, when I joined the Committee of the Swiss Branch. Marcus was always an inspiring and generous person. His clear, but soft-spoken leadership and his gracious manner were remarkable.
We are deeply indebted to Marcus for his important contributions to the work and success of the IFA. All of us who had the privilege and pleasure of knowing him and working with him will miss him as a dear friend. We will cherish his memory and our thoughts are with his wife Cornelia and his family.

Jean-Blaise Eckert
Secretary General IFA