The 1st IFA International Tax Conference was held in Sarajevo on 30-31 October 2019. The event gathered a large number of tax practitioners, tax officials, academics and students, with more than 30 panellists from Europe, region and Bosnia and Herzegovina. In her opening remarks, Azra Bećirović, Chair of the IFA Branch in Bosnia and Herzegovina, introduced the IFA Branch and underlined the importance of discussing tax topics at this moment in Sarajevo, especially in the IFA format.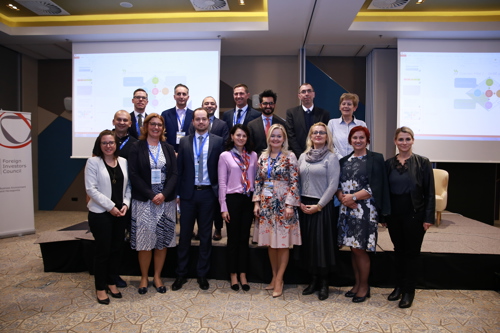 Jean-Blaise Eckert, Secretary General of the IFA, welcomed the organization of such an event in Bosnia and Herzegovina and thanked the Branch for an extraordinary work done in preparing the application for the IFA Branch Development Fund and ultimately organizing the conference, which was the first event supported by the BDF since the establishment of the Fund. HE explained the unique role IFA is playing in the world of tax and introduced its programmes and activities, including the Annual Congresses.

The event was opened with a very interactive high-policy dialogue on tax reform aimed at improving business environment, followed by a discussion on transformation of tax administration in Bosnia and Herzegovina and the region. The panel on the BEPS, Multilateral Instrument (MLI) and the implementation of tax treaties received a lot of attention, as it was held just after the MLI was signed by the Minister of Finance and Treasury on behalf of Bosnia and Herzegovina in a ceremony held at the B&H Parliament building, next to the conference venue.

The following discussions on transfer pricing post-BEPS and tax procedure identified several challenges currently faced by Bosnia and Herzegovina and the region, and how they might be tackled. The last panel included the presentation of the recently released OECD unified approach under Pillar one on taxation of digitalized economy, as well as academic and local perspective on the matter.

The conference received a significant media attention, especially the topics such as the MLI and the taxation of digital economy, being new and highly relevant for developing countries, including Bosnia and Herzegovina.